Our restaurant, beer garden and parlours
What is prepared with a greatest of love can only taste fantastic. In our restaurant we spoil you with numerous Bavarian delicacies and delicious specialities of the Allgäu and Swabian cuisine. We also serve tasty wines and regional beers. Of course all our dishes are homemade and of special quality. You can look forward to the seasonal highlights of our cuisine as well as to our delicious fish specialities. This all tastes equally good to our guests and local gourmets.
May we ask you for something? To avoid having to send anyone home hungry, we recommend that you reserve a table in advance.
Menu as PDF (5.30 pm to 10 pm)
Opening Hours Kitchen:
Monday to Saturday: 5.30 pm to 10 pm
Sunday: we are closed

Good Morning!
Our breakfast buffet
Anyone who has ever experienced our breakfast buffet in Kempten knows what Allgäu hospitality is all about. No culinary wishes remain unfulfilled here. There is plenty of each and everything. Fresh. Regional. And prepared with a lot of love.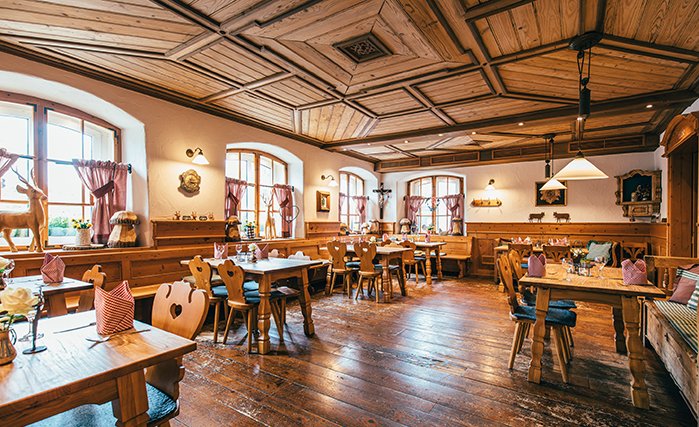 "Rossmarkt" parlour
(50 people)
With much effort and attention to detail, the "Rossmarkt" parlour was built and the rediscovered old wooden panelling ceiling was integrated. Let yourself be enchanted by the charm of this room!
"Allgäu" parlour
(20 people)
Feel the comfort of a typical Allgäuer parlour like 150 years ago with a limed stove and an original wooden ceiling from the year 1860. Enjoy our hand brewed, unfiltered beer specialities Bayerisch Hof Helles, dark beer and wheat beer!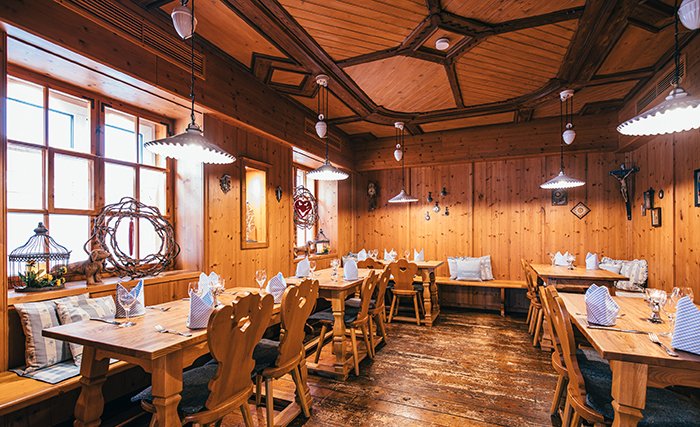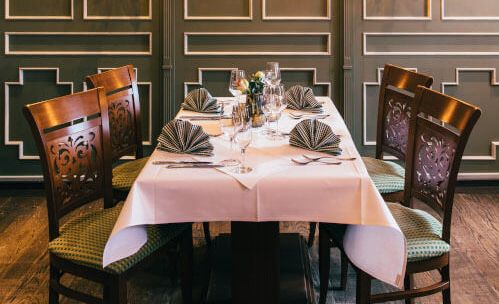 "Patrizier" parlour
(45 people)
Our fine parlour with its beautiful wall panelling, the baroque lamps and the open fireplace provides for a special comfortable and festive ambience. It is particularly suitable for any festive occasion, for the planning of which we are happy to assist you with all our experience. Let us know your wishes so that your party will be an unforgettable experience!
Vaulted cellar
(16 people)
Immerse yourself in the monastic atmosphere of our vaulted cellar. By candlelight and open fire we spoil you with local game, roast pork, Allgäuer cheese spaetzle, or a multi-course menu according to your wishes up to max. 20 people.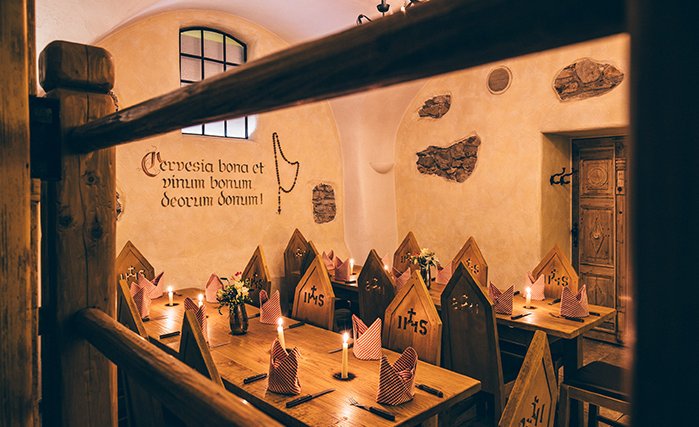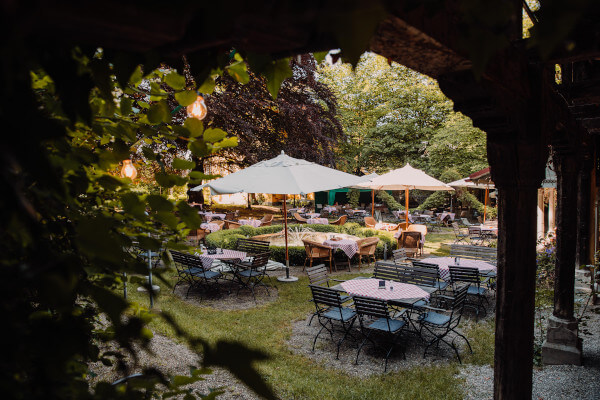 In summer, our romantic beer garden in the adjoining historical park with its old arcades, the shady giant beeches, the beautiful fountain and its chilly lounge tent invites you to enjoy and linger. Let your soul dangle!
With us everything is premium quality
Our kitchen culture
You want to have an excellent meal in Kempten and are looking for a suitable restaurant? Simply come to the Restaurant Bayerischer Hof. Gourmets are in good hands with us. Our cuisine scores in all areas. Starting with the product quality, our mainly regional ingredients, through our service quality to our performances in front of and behind the scenes.
This also convinced the Bavarian State Ministry of Food, Agriculture and Forestry as well as the Bavarian Hotel and Restaurant Association DEHOGA Bayern e.V. Once again we were awarded three of a total of three "diamonds" by both institutions. This means: Excellent Bavarian cuisine in top form!
You can be sure: Restaurants and beer gardens with "Excellent Bavarian Cuisine" are run by committed, professional gastronomes. They cultivate the Bavarian restaurant and kitchen culture and develop it further without neglecting the culinary traditions of their region. Each of them works hand in hand with agriculture, the food industry and the local craftsmen. Thus the whole variety of pleasures of the region lands directly on your plate.